IKO Machinery For Specific Application
Tube Screen Printer IKO-T-620-80200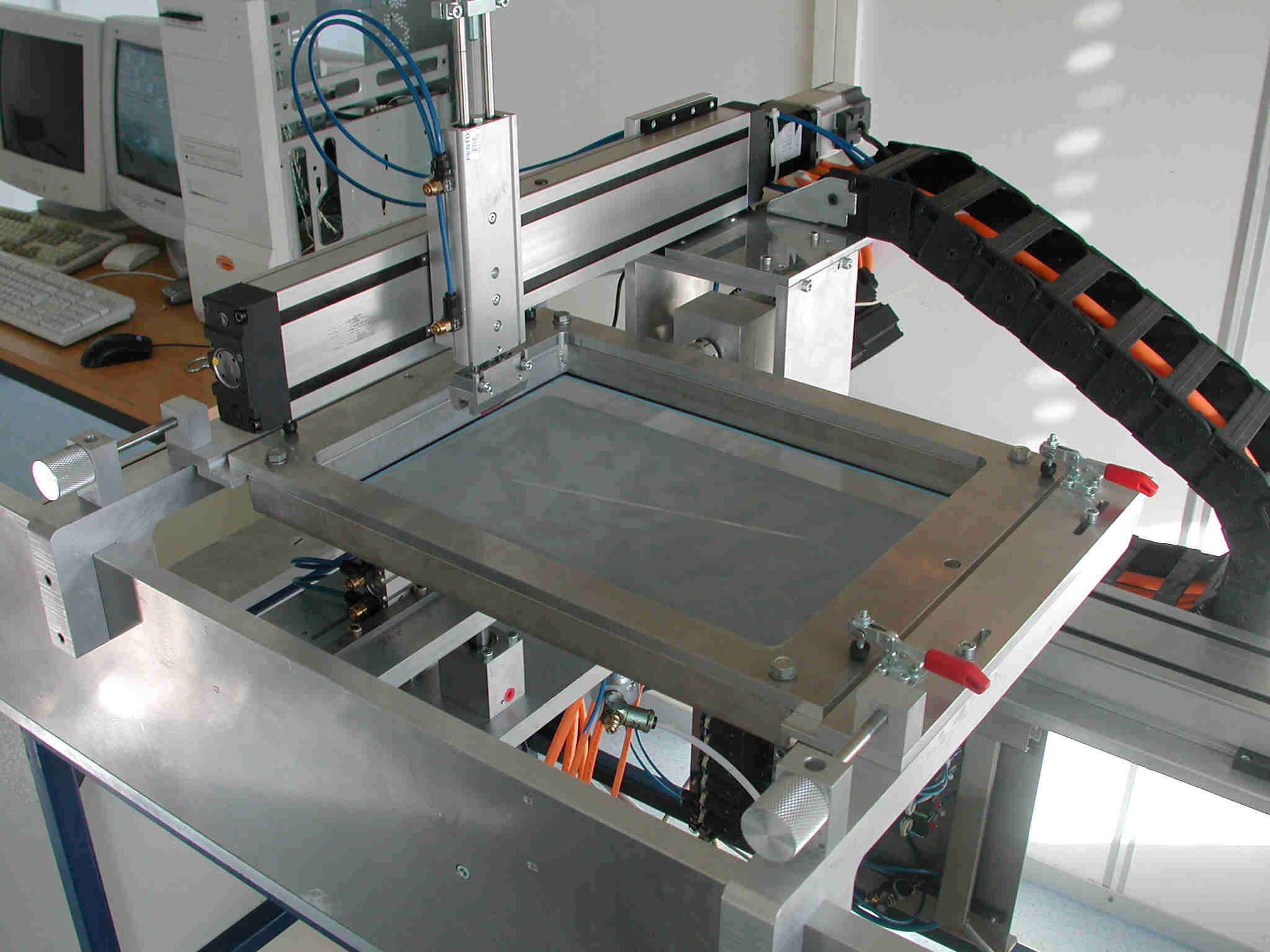 The IKO-T-620-80200 -Screen Printer is an ideal solution for high precision screen printing on tubes and other cylindrical items. It is designed especially for thick film applications, which require a high level of screen printing accuracy. The IKO-T-620-80200 - Screen Printer is a modular system which can be used in research and development as well as in high volume production environments. The basic semiautomatic IKO-T-620-80200 model can be easily upgraded to a fully automated inline production machine which is characterized by a user-friendly operation, short set-up times and high degree of versatility. An easy exchangeable clamping system provides to print on tubes of varying diameter and different materials. A soft clamping system enables the application of tubes of even delicate material. An additional mode of driving the squeegee enables also the printing of spirals.
The IKO-T-620-80200 printer concept provides a cost effective solution for your screen printing needs.
TYPICAL APPLICATIONS:
Power resistors

Coils

Sensors

Tube heaters
GENERAL DESCRIPTION
Squeegee traverse and tube movement are performed by speed controlled motors which provide a fast printing cycle and a high positioning accuracy (Optional)

SPS control modes and pneumatic valves

Pneumatic soft clamping system

Precision squeegee adjustment to tube axis

Anti-backlash fine pitch adjustment for screen registration, with self locking mechanism

Adjustable snap-off distance

All moving mechanisms are mounted on radial and linear bearings and hardened precision ground shafts

Optoelectronic registration of start position of tube (Optional)
TECHNICAL DATA FOR IKO-T-620-80200

Squeegee speed: 0 – 400 mm/s

Max. Screen size: 1000 mm x 400 mm

Max. Print Area: 900 mm x 340 mm

Adjustable stroke: up to 800 mm

Adjustable traverse stroke: up to 300 mm (Optional)

Min. tube diameter: 6 mm

Max. tube diameter: 20 mm

Min. tube length: 80 mm

Max. tube length: 200 mm

Carriage repeatability: ± 0,05 mm

OPTIONS:

Paste dispenser

Flood Squeegee

Optoelectronic registration of tube start position

Exchangeable Clamping tools

Squeegee traverse for Spiral printing

Motor adjustable snap-off distance

Handling Systems for automatic Tube change
IKO has a customer oriented philosophy. Each machine will be adopted to customer' s specific requirement. Don't hesitate and contact us for discussing your specific application.